BoxWhatBox
BoxWhatBox is a workshop process I've developed gradually since 2004. It's about learning how to unlearn, and how to play, in a creative and productive manner. The approach incorporates exercises and games I've developed along with approaches taken from the work of many great teachers, but in orientation it can be considered a poor theatre approach.
There are three elements of BWB: demechanisation, rhythm, and creation. In Demechanisation actors identify habits and ingrained attitudes which hold back their expressive development. This is done through games and exercises developed for BWB.  Rhythm involves work in percussive and vocal ensemble work, to connect performers to the innate rhythms of a role, a scene, or a story.  Creation uses targeted improvisation, a technique developed for BWB, to create original performance material and develop actors' expressive vocabularies as an alternative to the use of text. Études are developed specifically for each BWB workshop, working from a theme, through the use of narrative frame and actor "posts".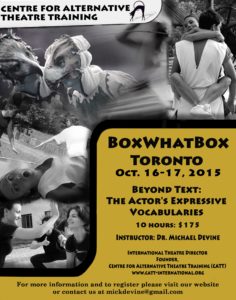 BWB has been extremely successful as a rehearsal process. It is especially useful in telling the stories of people or a culture. A production of original material, in the native language of the culture in which it takes place, can be put together very quickly using its exercises. This is very useful in situations where resources are limited and time is at a premium. BWB can also be used with established material, especially material from other media – songs, poetry, short stories – that requires adaptation.